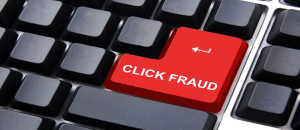 The PC Week headline reads: 7 Charged with Using Malware to Rack Up $14M in Fake Ad Revenue
The Department of Justice has indicted seven people for allegedly hijacking millions of computers, manipulating traffic on popular websites, and generating more than $14 million in fraudulent advertising revenue.

The defendants — six Estonians and one Russian — allegedly hijacked more than 4 million computers using malware that rerouted Internet traffic to websites where they would get a cut of the ad revenue. Infected computers with users looking for popular websites such as Netflix, Amazon, and iTunes were rerouted to webpages that featured the defendants' ads.
Can you prove that you haven't paid for fraudulent clicks?
Hits and clicks are metrics that can be artificially inflated. Search engine ranking positions (aka SERPs) are hardly sexy but they are quantifiable and probably the fairest SEO metric. You can have a spectacular billboard in your driveway, on a main street in your city, or visible from a highway. Clearly the highway is the best position for prospective views of your billboard.
Remember the three rules of real estate: location, location and location. It applies to search engine marketing at least as much.